Our District Scrapbook page covers our most recent activities.
We have District Scrapbook pages for 2010-2012, 2013-2014 and 2015-2016, too!
---
Unseen for half a century...
Look at some recently discovered pictures from the 1960 Cortland Armory Scout Show and the 1961 Barton Hall Scout-a-Rama.
---
Everyone loves patches...

Visit the Taughannock District Virtual Patch Collection!
---
Cubs went To the Jungle - and loved it!
About 200 Cubs, parents and staff had a great time In the Jungle at Camp Barton's Cub Adventure weekend on October 3-4, 2009
Here's a page of pictures from the event.
---
Nine Eagles in Lansing!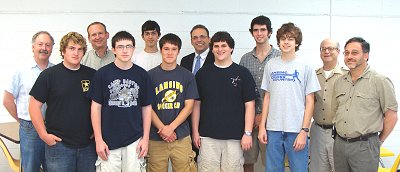 On June 29, 2009, the Lansing Star printed an article about the nine Eagles (or near-Eagles) at Lansing High School (or is it "webbed"? it's an on-line newspaper). Congratulations to all involved! It's always great to see some good publicity for Scouting.
---
Cortland Dairy Parade
A number of our units participated in the Cortland Dairy Parade in June 2009. As you can see from the photos ("thanks" to Will Newman),
a Good Time was had by all.
Spring 2009 Cub Adventure Weekend
"Knights in Armor"
Over 300 participants took part in the Cub Adventure Weekend.
For lots more information and pictures, see the 2009 Adventure Weekend web page.
---
District Cook-o-Ree
April 25, 2009
The District Cook-o-Ree was a great success, with Scouts from 8 troops participating.
For a description of the event and more pictures, see the Cook-o-Ree web page
---
Take a Hike!
District Cub Event - Saturday, April 4, 2009
Where? Lime Hollow Nature Center
Who? Cub Scouts, leaders, parents and family members
Why? Because it was FUN!
Despite the "iffy" weather (OK, more than iffy - it was 35 degrees and snowing), hardy groups of Cubs, parents and family members took a hike around the trails of the Lime Hollow Nature Center in Cortland. Each group, at 10:00AM and 1:00PM, hiked a loop from the Visitor Center south down the Tamarack Art Trail, then west on the Lehigh Valley Trail, north to the High Vista Loop, then back on the Lookout Connector to the Tamarack Trail and the Visitor Center - about two and a half miles.

I can see you!


Art on the Tamarack Art Trail

The Gracie Pond overlook - complete with loons
(both on the pond and on the hike...)

The Lehigh Valley Trail - former route of the Ontario & Midland Railroad
---
District Mall Show
February 14, 2009 at the Shops at Ithaca Mall
The Cubs woke people three time zones away at the 2009 District Mall Show - click here for more pictures!
---
Winter Scout Skills Camporee
January 24-25, 2009 at Camp Barton
Around 120 Scouts and leaders from 11 Troops enjoyed a weekend at Camp Barton in our annual Winter Camporee. Take a look at the pictures on the '09 Winter Camporee Web Page!
---
Congratulations to Taughannock District's newest
Award of Merit Recipients!
Robin Stedinger of Pack 4, Ithaca, and Chaz Stanton of Troop 90, Marathon, received the District Award of Merit at the Taughannock District Recognition Dinner on April 25, 2008. Other recognitions presented at the dinner included "Spark Plug" awards to various unit-level Scouters, the Founder's Award to Mike Kazarinoff, and the Distinguished Commissioner's Award to Jim Lake. A number of Scouters were recognized as Rising Stars, members of the Zebulon Pike Patriot Patrol, or Old... erm... Guard. Congratulations to Robin and Chaz, and to all of the recipients of other awards.
---
Report from the 2008 Maple Weekend
Maple Weekend went very well. Our Explorers even obtained airtime with the local media Channel 18 for their assistance with the Arnot Forest staff during this event. We were able to serve well over 500 people during the past two day even. The entire staff of Arnot Forest is grateful for the assistance they have received from us and as a reward, they have given us a free weekend to use their cabins and kitchen.
This has always been a fun event for our membership. Our members assisted with serving meals, traffic/parking, and customer service. During the evenings, we had the facility to ourselves. The post members sharpened their patrol operation skills and practiced several different police related situation scenarios. We also made good use of the large kitchen during the evening meals.
On Friday night, we enjoyed Homemade "Policehouse Chili" and on Saturday, evening, our post membership tried Pesto Italian pork chops with bowtie pesto pasta. These dinners were served in front of a large crackling fireplace in the Arnot Forest's main lodge. If anyone left this weekend hungry, it was their own fault.
The members also had a chance to sample fresh maple syrup, maple cream, maple candy, and new this year, maple cotton candy. The glucose levels were running on an all time high. So, to sum it all up, we had a great time, with great people and helped some folks along the way.
Stay safe,
Ofc. Anthony V. Scaglione I.P.D.
Post 392 Advisor
---
"Scouting 101" - February 2008 Mall Show
| | |
| --- | --- |
| Badge-a-Minit machine | Nature Study with Pack 4 |
| Troop 90's Indians at Pack 24's Beanbag Toss | Building Bridges |
| Pinewood Derby | Raingutter Regatta |
| Troop 1's Scout Cave | Finding Martian Fauna with the Mars Rover |
---
Taughannock District Scouts have gone...
Where no Scout has Gone Before!
Our 2008 Winter Camporee was a great success. Over 160 Scouts from 18 patrols in 14 troops spent a day at Camp Barton competing in 16 stations on a Science Fiction theme.
The day started with a Patrol Leaders' meeting at 8:30 AM, and the Scouts were off to Outer Space! For the next three hours, they built boats with business cards and tape, rescued the AG Bear, drove a Mars Rover around the dining hall in search of Martian fauna, and encountered an Alien at the chapel. They skipped rocks and folded paper airplanes, moved hot isotopes to fuel their spaceship, and found their way around the camp by GPS. At noon, we broke for a great lunch, courtesy of Kathleen Gross and her crew of Time Lords from Gallifrey. Then, back to work for another three hours, running obstacle courses, attempting Perpetual Motion, designing alien beings who might live in a selection of planets from classic science fiction, and surveying an alien planet by sound and pictures. The day's activities ended with a launching of re-entry capsules for our crew of Eggstronauts.
The day's competition was won by Troop 80 from Cortland, with 157 points, closely followed by the "Bob" patrol from Ithaca's Troop 2 with 156.95. Patrol 1 from Trumansburg Troop 13 came in third with 155.35 points.
At 6:30PM, the Kryptonite Chef competition commenced. Seven troops sent succulent and radioactive dishes on a "Peppers" theme to be judged by our team of judges. Troop 197 won the coveted Green Alien trophy with their "Asteroid Slop" - a meat-stuffed pepper with Cheez-its. The evening concluded with a Science Fiction video festival.
We've got lots of pictures - take a look at the Picture Gallery.
---
Taughannock District Wilderness Survival Camporee - October 12-14, 2007
Our Fall Camporee was held on the weekend of October 12-14, 2007, at the Lime Hollow Nature Center in Cortland. Under the leadership of Center Director Glenn Reiseweber. Ninety or more Scouts completed many (if not all) of the requirements for Wilderness Survival Merit Badge.

Troops camped at various locations near one of the visitor's centers around Lime Hollow on Friday night. On Saturday morning, the Scouts packed up everything they needed to camp with (except shelters), and hiked over to a series of stations to learn what they need to know about Wilderness Survival - shelter building, foods, first aid, among others. Then, in the afternoon, the troops backpacked into the Hollow and built their shelters for the night. Sunday morning, they hiked out, and off home.
---
2007 Cub Family Weekend
Ancient Egypt
Camp Barton - Oct. 6-7, 2007
More than eighty Cubs and dozens of parents and leaders Walked Like Egyptians at Camp Barton over the October 6th weekend. A Good Time was had by all.
---
Let it snow... the 2007 Klondike Derby
The 2007 Taughannock District Klondike derby was held on Saturday, January 20, 2007 at Camp Barton. Over 120 Scouts, in 18 patrols from 12 troops, competed at 18 stations run by unit leaders and other volunteers. The patrols collected "gold nuggets" at each station (thank you John Schuhle), and for answering questions on a trivia quiz/scavenger hunt. A hot lunch was provided by Kathlene Gross and her kitchen crew ("thanks" - the chili was great!). The weather cooperated by snowing, and blowing, and clearing, and snowing, and clearing and...


Troop 2 on the suspension bridge


One of two Frisbee Golf stations

Flapjack Flipping

Marksmanship at the Rifle Range

Getting through the Spider Hole

Blindfolded tent raising

Scavenger Hunt

Congratulations to Troop 55, who won
custody of the District Klonduck Pole for this year!
---
Taughannock District Auto-Ree - October 2006
Posted by: Rick Sholar ricks@odyssey.net
Fri Oct 20, 2006 5:35 pm (PST)

Hello everyone,

It seems that my idea of an Auto Mechanic Badge Camporee was a success. I need to thank individuals who made it a success.

Taughannock District:
I would like to thank Gary Decker (Scout Exe.), Mike Brown (Activities Chairmana)and Nolan McLaughlin (Media Rep).

Royal Motors Auto Complex:
I would like to thank Joe Reagan for letting us have our event at his complex on rte 281 in Cortland, NY. I would also like to
thank Amy Ruan, manager of Service Department. Joe and Amy also let us have two of their technicians for our event. They were wonderful and we surely did appreciate them being there for us.

Little Caesars Pizza:
Bill Beveridge, the manager, donated pizza for all of those attending the event. Bill, by the way, is Cub leader for Pack 91 in
McGraw, NY. Great pizza Bill

Police Departments:
I want to thank the Cortland County Police Department and the NYS Police Department for their assistance with our Passive
Restraint requirement. Their demonstration was excellent. I hope the boys remember the parting words of "You will wear seat belts".

I want to extend a big thank you to Doug Emerick of Borge Warner. He provided us with a great exhibit and a whole lot of knowledge.

I want to thank also, Roger Garnett, Merit Badge Counselor, for bringing his '59 Austin Healey Sprite Vintage race car to our event. The boys sure loved that.

I want to thank too, the Scout personnel who helped with stations. This includes, John Schuhle, Jerry Friedman, Dave Gross, Charles Stanton, Kathy Gross and Mike Stoll. If I forgot anyone, please forgive me. Everyone at the Camporee was appreciative of all who helped in any way.

Thank you to all the troops that took part in the day's events. I hope they all learned something from it and had a good time doing so. WEAR YOUR MECHANIC BADGES PROUDLY...

I have one request from everyone that took pictures at the event. I am putting together a notebook of what we did at the Auto Mechanic Merit Badge Camporee. I would like to include as many photos as possible of the event. PLEASE do not send by email, as I have dial-up and it is extremely slow downloading photos. Please put them on a floppy disk...a CD...give to me personally.. .or mail to me via postal mail. I will gladly pay for the photos.

Again, thanks for making our Camporee a wonderful success.

Yours in Scouting,
Rick Sholar (Auto-ree Chairman)
3545 Underwood Hill Rd
McGraw, NY
(607)836-4606
---
Something completely different...
Saturday, March 11, 2006
DeWitt Middle School, Ithaca NY
For Cubsóthe races were on!

District Pinewood Derby
Rain Gutter Regatta
For ScoutsóBe Prepared!

For what?
For an Emergency Preparedness and First Aid Rally!
| | |
| --- | --- |
| The day ended with a District Cross-Over Ceremony for Second-Year Webelos to cross over into their new Boy Scout troops. | |
---
2005 Fly-o-Ree
The sun has set on the Taughannock District 2005 Fly-o-Ree, which was held at the Cortland County Airport on Saturday, October 15th, and it was a great success. About 140 Scouts and a similar number of Cubs were in attendance, and many troops camped overnight.
Troops started checking in at the FBO Cortland hangar around 8:00 AM. The day started out cloudy and foggy, but the skies lifted through the morning until it was possible for members of the Experimental Aircraft Association (EAA) to fly in, and to begin offering "Young Eagles" airplane rides to the Scouts. It was only a brief break in the weather, however, and the rain started around 11:30 - late enough, at least, that the morning Cub events were able to finish.
The clouds and rain did not dampen the ten stations where pilot volunteers, with help from District leaders, taught Aviation merit badge requirements from reading Aero Charts and pilot's license requirements, through flying an instrument simulator loaned by East Hill Flying Club and twiddling the knobs on a table full of avionics. Groups of Scouts were shown around a disassembled Piper Seneca, a Cessna 172 was endlessly subjected to preflight inspections, and a Thorpe T-18 homebuilt served as a "full scale model" to show how an airplane flies and is controlled. The Ithaca R/C Airplane Club showed off some of their planes, and did stunts with an electric-powered biplane model. Aviation videos ran all day for anyone wanting to watch. The Skyline Amateur Radio Club provided a ham radio station and operators to allow Scouts and Cubs to talk to their counterparts around the world in the Jamboree on the Air.
By 1:00 the weather broke, the sun appeared, and the Young Eagles flew again. The EAA members provided rides in a wide range of aircraft, from a two-place fabric covered Aeronca Champ through a very fast twin-engine Piper Aerostar. Several Cessna 172's and 150's, a Beechcraft Debonair and a Mooney filled out the squadron.
Around 1:30 a World War II AT-6/SNJ trainer flew in from the Wings of Eagles Museum in Elmira, making a low high-speed pass over the runway before landing for a few hours to allow the Scouts and Cubs to get a close-up view.
By the time the day ended with the last airplane ride around 5:30, 121 Scouts had become "Young Eagles", and nearly all of the Scouts present earned Aviation Merit Badge. After dinner, the Scouts and leaders filled the FBO Cortland hangar for an IMAX film festival and popcorn, and retired to their tents for a well-earned rest.
On behalf of the Taughannock District and all of the Scouts and Cubs, I'd like to express our thanks to:
David Jones, his wife and family and all the staff of FBO Cortland / "All About Flying" flight school for being such wonderful hosts for our event, and for the use of his hangar and airplanes

The pilots and members of the Experimental Aircraft Association Chapter 811 who gave their time and effort and airplanes to give "Young Eagles" airplane rides to our Scouts, and especially to Don Funke who coordinated the entire EAA effort

All of the individual pilots who ran merit badge stations, too many to acknowledge individually, but "thanks" to all of you.

Cortland County, for allowing us to use the field for the fly-o-ree and camping, and specifically Chase Field manager Bob Buerkle for his help and encouragement

Skyline Amateur Radio Club and its members for setting up and running the JOTA station

Ithaca Radio Control Airplane Club for its displays and demonstration flights

Wings of Eagles Air Museum for their SNJ aircraft - the growling sound of that radial engine made my day.

East Hill Flying Club for loaning us their instrument Simulator

Eagle Envelope who printed the Cubs (Piper Cubs, that is) for the Cubs (Cub Scouts) to build.

All of the businesses and institutions who loaned traffic cones and barricades, and the Sheriff's office who provided a deputy for traffic control

And, last, but not least, all of the district, troop and pack level Scouters for the many hours they all spent making it all possible in the first place.
- Mike Brown, District Activity Chairman
---
Jamboree, Resident Cub Camp and Fund Raising Stories in Lansing Star Online
Date: Fri, 19 Aug 2005 09:03:44 -0400
From: "John C. Comisi" <jcomisi@jcomisi.com>
The Lansing Star Online published a few articles about Scouting over the last two weeks. Here are the links:
http://www.lansingstar.com/content/view/179/118/
http://www.lansingstar.com/content/blogcategory/98/84/
http://www.lansingstar.com/content/view/193/118/
http://www.lansingstar.com/content/view/174/118/
http://www.lansingstar.com/content/view/133/118/
This is great publicity, and hope this inspires other units to get out there and Market Scouting even more to their communities. Enjoy!
YIS,
John C. Comisi, D.D.S.
Taughannock District Membership Chair (Tompkins County)
B-P Executive Board Member
---
Cub Scout 75th Anniversary event
April 16, 2005
Cubs and leaders celebrated Cub Scouting's 75th birthday on Saturday, April 16, 2005, at Groton Memorial Park in Groton. The cubs did crafts projects, played games, had ice cream and sang "Happy Birthday" to their organization.
The day ended up with the Cubs trying on parts of historic uniforms, and lining up for the group picture above.
---
Congratulations Troop 48!
Date: Tue, 24 May 2005 13:04:11 -0000
From: "bruce_barber" <bb57@cornell.edu>
Subject: Troop 48 bike trip in the Ithaca Journal
Our Spring 184 mile bike trip down the C&O Canal made the paper. It's in the second blurb down. We had a great time! Click here for the article
If you want more info about the C&O Canal check out these links:
http://community.webshots.com/user/cotowpath (Great Pictures of the entire Path!)
http://bikewashington.org/canal/index.htm - good description of entire length of the canal list attractions and campsites.
http://www.nps.gov/choh/ - National Parks Service site
Troop 80 at Riley's Lock on the C&O Canal in 1998
---
Congratulations Troop 55!
The May 18, 2005, Ithaca Journal has a nice article about Ithaca Troop 55's Canoe project.
It can be found online at: http://www.theithacajournal.com/news/stories/20050518/localnews/2138011.html
---
Lewis & Clark Camporee - January 2005
A Big "Thumbs Up"!
The Camporee was a great success, attended by two hundred Scouts and Scouters. Twenty two Scout patrols and three Webelos dens enjoyed the perfect weather - sunny, in the high twenties - while participating in twenty completive and non-competitive stations. Congratulations to Troop 2, who won the Camporee competition with a score of 77 beads, keeping the District Barber Pole with Duck and Dog, and to Webelos Den 4, high scorer in the Webelos Division with 63 beads. Second place was taken by Troop 34 (64 beads) and Webelos 85 (53 beads), and third place by Troop 77 (63 beads).
Special thanks are due to everyone who helped to make the camporee a success - especially to Chaz and his friends and neighbors from Marathon and Troop 90 who supplied their teepee, complete with Indians (thanks to them, too!) and Lewis and Clark, themselves, risen from the grave to attend our event. Nearly all of the leaders present, and many of the older Scouts, ran stations for the participants, and Mike Kazarinoff developed and ran the three Webelos stations. Ranger Larry managed to get everything opened up and plowed out in time, despite a mishap which found the Camp tractor in a ditch. Dave and Kathlene Gross and their crew did a fine job feeding everyone (great chili), and our new DE Gary Decker was there to handle administrative affairs and greet all the participants. I'm sure I've missed lots of people - "thanks" to all of you, too! - Mike Brown, Taughannock District Activity Chairman